Snake in My Spine
Posted October 26th, 2017 at 3:01 pm1 Comment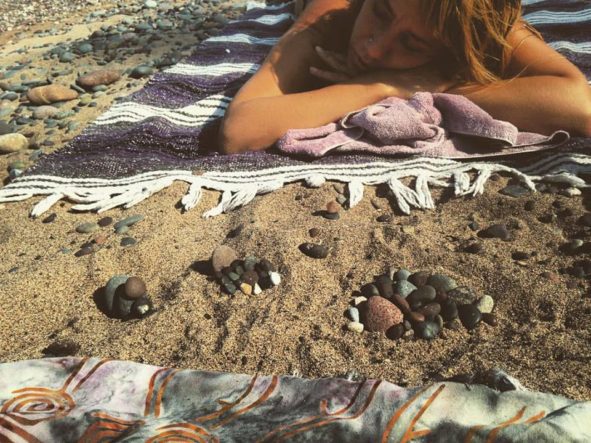 The snake in my spine is tired of lying. Tired of pretending that all this light fell from the sky or was gifted by some God. Of pretending she did not make it herself – of flesh and heart and complete darkness.
The snake in my spine is tired of hiding. And still afraid of emerging. Each shed skin she is more herself than she ever has been. More alive and magic. The young skin is easily harmed, easily stolen.
The snake in my spine wants to protect herself. The snake in my spine is tired of protecting herself.
Tired of the hunched over position hiding the flame in her chest. Tired of shoulders back position of a soldier, awaiting battle. Tired of playing guard. And hostage.
The snake in my spine is tired of shrinking. Tired of the crouched position of the prison cell, of hiding, shrinking, disappearing. Of wishing she was smaller, less noticeable. Less bright. Less sexy. Less beautiful. Less loud. Less soft. Less creative. Less honey in the heart. Less effortless flow of Soul. Less of whatever it is that calls the danger in. Whatever it is that would like to prey on this life that moves through her.
The snake in my spine is a rage. So full and deep that when she screams, she rouses the sacred fire of all women: past, present, future. She is the volcano you tried to bury. She is using the earth you buried her with as food. Molten earth now magnetic magma at the ready. The fire you burned her with, she has harnessed. And multiplied. And made into magic.
The snake in my spine is a scream. A scream that was once silenced. And now comes too much, or not at all. Frozen perhaps. And then a flood. A primal scream that is right response to terror, danger, violence. A scream that will pool and fester and putrefy if it is not uttered, heard, respected, and celebrated. A sacred scream that opens the gates.
The snake in my spine is uncoiling. Does not need your pity. But wants to dance with the snake in you. She is making something of all of this darkness, all of this violence, all of this rage. She is making more light. From her body. And she would like you to join her. Stop burying her. Stop silencing her. Stop doubting her. Stop denying she/you are magic. Stop fighting her rising. Wishing she would go away. Wishing she would stay just a little bit smaller so she could fit somewhere nice.
The snake in my spine is all of my prayers – past, present, future – answered at once. She wants others to move with. She wants to rise and meet you out in the open air. She wants her own voice to scream and coo and praise with. And then she wants to join you in a chorus. She wants to rush through my body like wildfire or a great river or a spring blooming. She wants to be free. With you.
The snake in my spine calls to the snake in your spine. To uncoil. To emit the caged sounds. The ones that move like ancient stones through your throat. The ones that taste like charred flowers. The ones that have been waiting.
One Commment